For expert pool filter repair and replacement services in Canton and the Metro Atlanta area, trust the professionals at Premier Pool Service, Inc. We are a full service pool company that provides pool maintenance, repairs and management services to both commercial and residential clients. We employ a staff of highly trained pool service professionals who are familiar with all the different types of pool filters. If the filter in your pool needs to be repaired or replaced, you can trust our experts to provide professional fulfillment with unparalleled customer service.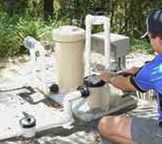 Pool filters are tools used to keep your swimming pool clean and clear of debris. Water containing small particulate matter passes through the filter and comes out the other end cleaner. This cleaner water is more pleasant to swim in, is healthier and is more aesthetically pleasing. You need a company you can trust with the important job of repairing the filter in your pool, and that company is Premier Pool Service, Inc.
Pool Filter Replacement
If you need pool filter replacement services for your commercial or residential pool, Premier Pool Service, Inc. can help. We carry top quality pool filters of different types including sand, cartridge and Diatomaceous Earth swimming pool filter systems. Our experienced pool professionals can help you select the best filter for your pool and professionally install it for you. After more than ten years in business, our pool service company is here to stay. You can rest assured that we will be around in the future to handle any service, maintenance or repairs you might need once your new pool filter is installed.
Swimming Pool Filters
Premier Pool Service, Inc. is Atlanta's trusted source for swimming pool filters and all things pertaining to pools and backyard living. If the filter in your pool needs to be repaired or replaced, contact our Pool Filter Repair Experts today to obtain an estimate. We look forward to serving you.