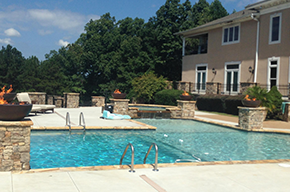 For expert pool and spa repair services, you can trust the professionals at Premier Pool Service, Inc. We employ a staff of highly trained, experienced pool repair specialists who use only the highest quality materials and parts to effectively repair pools for commercial and residential clients. Whether you are having a problem with the pump, filter or another part of your pool or spa, we can help. You can count on our professionals to accurate diagnose the problem with your pool and then implement the most cost-efficient, long-term solution possible.
Founded in 2001, our company was built around the premise of safety, reliability and dependability. We pride ourselves on having direct, hands-on relationships with our clients and to providing a high level of attention to detail to all of our customers, big and small. At Premier Pool Enterprises, customer satisfaction and safety are our top priorities and we will do whatever it takes to ensure that all of your needs are met.
Swimming Pool Repairs
Premier Pool Service, Inc. provides top quality swimming pool repairs for homeowners, commercial property owners, organizations, neighborhood associations and more. Your pool is comprised of many different working parts. To keep your pool operating properly, these parts must all work together and must work efficiently. Our professional pool repair specialists are familiar with all the different parts of a swimming pool and know how to repair them when they break. If any of the parts of your swimming pool cannot be repaired and need to be replaced, we can handle this also. Our experts use only the finest swimming pool parts to repair pools and we guarantee our work.
Spa Repair
If you are looking for a company you can trust to repair your spa, call Premier Pool Service, Inc. We provide expert spa repair services. Our pool service company takes the hassle out of pool and spa repairs so you can spend more time running your business or enjoying your pool and/or spa!
Please contact our Pool Repair Experts today to schedule repair services for your pool or spa. We look forward to serving you!
We provide service for the following areas: