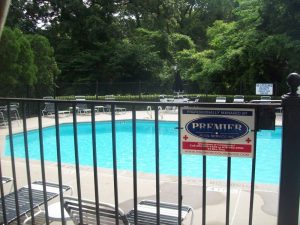 >For top quality pool management services in the Metro Atlanta area, you can trust the experts at Premier Pool Service, Inc. We provide a complete line of pool services for neighborhoods, condominiums and apartment complexes.
Our weekly full service contracts include cleaning of the pool, deck and bathrooms where appropriate. For commercial properties, contracts typically include two days of service to ready the pool after busy weekends. Our Atlanta swimming pool maintenance company employs a group of highly trained pool maintenance professionals. Our experts will maintain every aspect of chemical balance in your pool. This ensures that your pool is not only clean, but is also safe to swim in all summer or all year long.
Reliable Pool Management
If you are looking for a reliable pool management company, call Premier Pool Service, Inc.
At Premier Pool Service, Inc, we pride ourselves on having direct, hands-on relationships with our clients. We provide a high level of attention to detail to all of our customers, big and small. Customer satisfaction and safety are our top priorities and we will do whatever it takes to ensure that all of your needs are met.
Swimming Pool Management Company
Don't trust just any swimming pool management company with the important job of managing your pool in Roswell. For the best in pool management services, contact our Pool Management Services Experts at Premier Pool Service, Inc. We look forward to serving you!
We provide management services for the following areas: