Premier Pool Construction, LLC, a division of Premier Pool Enterprises, provides expert pool resurfacing services. We are a full service pool construction company that offers pool & spa construction, renovations, restoration and resurfacing for commercial and residential clients. Our clients include homeowners, commercial property owners, neighborhoods, organizations, apartment complexes, condominiums and more.
If your pool is looking tired and outdated, we can help. Our pool resurfacing experts use the finest materials and top-of-the-line equipment to safely and effectively replace pool surfaces. The result is a pool that is safer and more aesthetically pleasing. At Premier Pool Construction, Inc. our quality craftsmanship and attention to detail takes pool resurfacing to the next level.
Swimming Pool Plastering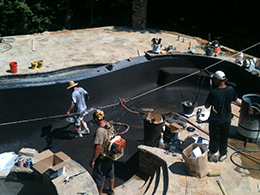 For high quality swimming pool plastering, you can trust the professionals at Premier Pool Construction, LLC. At our pool resurfacing company, customer satisfaction and safety are our top priorities, and we will do whatever it takes to ensure that all of your needs are met. If you hire our company to resurface your pool, we will work hard to complete your project on time and within budget.
Pool Refurbishing
If you have a pool that is in need of refurbishing, contact our Pool Resurfacing Experts at Premier Pool Construction, LLC. We are a fully licensed and insured company and provide Workman's Compensation for all of our employees. We promise to provide professional fulfillment with unparalleled customer service. We look forward to serving you.