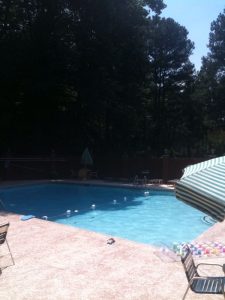 Premier Pool Service, Inc., a division of Premier Pool Enterprises, provides a full line of pool maintenance and pool staffing and training services for residential and commercial properties in Canton and well as the entire Metro Atlanta area. Founded in 2001, our pool service company was built around the premise of safety, reliability and dependability. Since our inception, we have continued to grow steadily. We now have many satisfied clients across, Cherokee, Cobb, Forsyth, Gwinnett and Paulding Counties.
At Premier Pool Service, Inc., we pride ourselves on having direct hands-on relationships with our clients. We have a limited number of partners we network with, thus allowing us ample time to dedicate to our customers. We provide the same level of attention to detail and commitment for an 800,000 gallon facility as we would a 20,000 gallon facility. Customer satisfaction and safety are our top priority, and we will do whatever it takes to ensure that all of your needs are met.
Pool Service Company
For a reliable pool service company in Atlanta, trust the professionals at Premier Pool Service, Inc. We can provide you with any level of residential or commercial pool service from basic pool cleaning to full pool management including lifeguard staffing and training. You can choose the services that work best for your pool and for your budget. We offer both year-round or summer only pool maintenance contracts and will cater to your exact specifications. Premier's team of trained professionals will maintain every aspect of chemical balance in your pool. This ensures that your pool is not only clean, but is safe to swim in all summer or all year long.
Swimming Pool Services
If you are in need of swimming pool services, all Premier Pool Service, Inc. In addition to pool maintenance, our pool service company also repairs and replaces pool pumps and filters, and provides pool and spa repairs.
Contact our Pool Service Professionals today to obtain a quote or to discuss your needs. We look forward to serving you.
We provide service for the following areas: